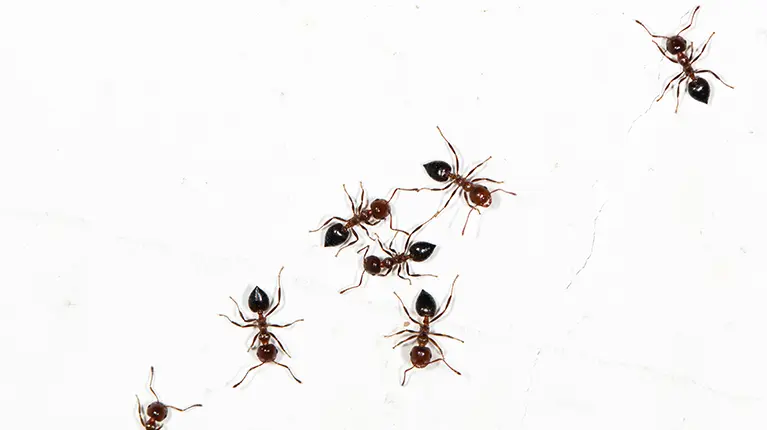 An ant never comes alone. If you've detected a movement of these insects going through your home, it's time to call Truly Nolen for an ant disinfestation and pest control service.
Ants (Formicidae) are social creatures that live in organized colonies. While the worker ants go out in search of food, many other ants perform their duties hidden in the nest and serve the needs of the queen. The queen remains in the nest, with the sole object of breeding more and more ants.
They usually appear in spring and summer and can be detected both outside and inside buildings. This pest is harmless, but can carry unwanted bacteria and cause food contamination.
Ant disinfestation? It's time to call Truly Nolen!
Like other household pests, the most common ants take any opportunity to get into your home: gaps in doors and windows, cracks in walls, holes in plumbing or electrical fixtures, etc. If you have seen too many ants inside your home, consider the need for a company with a specialty in ant disinfestation.
Ant facts
Ants are strong. An ant can lift up to 20 times its body weight.
Ant queens can live much longer than worker ants and produce millions of new ants.
Usually, colonies collapse when the queen dies and leave for a new nest.
There are about 16,000 species of ants worldwide.
In Portugal, 149 native species are known.
When the ants find something edible, they take it to the nest. Along the way they leave pheromones, a chemical trail so that other ants will follow them and bring more food.
Except for carpenter ants, which burrow into the wooden structures of buildings, these animals do not cause much damage.
Ants are mostly annoying, unhygienic, and can spread bacteria throughout the house.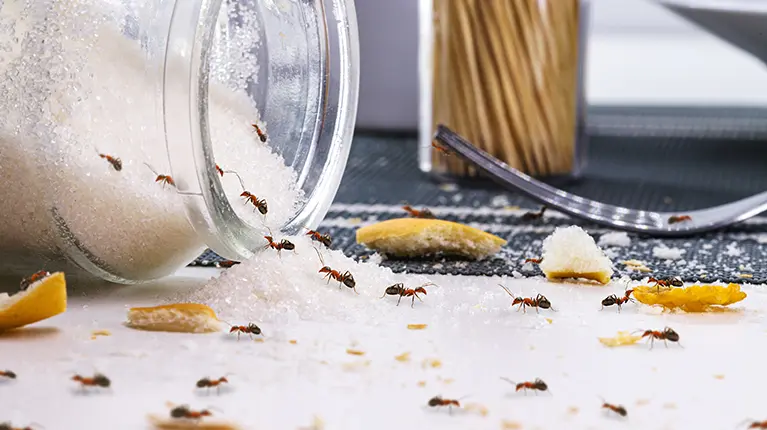 How do ants arise?
Ants are attracted to places with food and water. Be aware of the following situations.
In the kitchen and pantry, avoid leaving food products exposed and regularly clean cupboards, shelves, jars and food packaging, especially sweets like honey, jams and sugar. Remove anything left over and wash the outside of packages of anything sticky.
In the bathroom, they can be attracted to shower gel, shampoo, moisture and water. Clean the bathroom regularly with disinfectant to prevent the appearance of these insects.
Keep an eye on your pets' feeding and drinking troughs. Ant colonies can detect food anywhere in the house, including dog or cat food.
If you suspect an ant infestation, inspecting the walls is a priority. They can build their nests inside building walls or anywhere that has an empty space where they can house their colony.
Cracks in walls provide the perfect passage for ants. Some ant species prefer to build their anthill outside, but house walls also provide perfect shelter and proximity to food sources.
Air conditioning and heating units are other great hiding places for ants. Clean the outside of the unit with water and detergent. Ants are sensitive to smell so let the scent work instead of rinsing with water.
Also check the spaces under the foundation of buildings where dead insects, seeds, animal food and other potential food sources for ants accumulate.
Don't let waste accumulate inside the house, especially if you have leftover fruit. Even with the bin tightly covered, live ants can find a way in.
Seal any small holes or cracks in the walls.
Reinforce the caulking of doors and windows.
Need professional help with ant disinfestation? Call Truly Nolen and see what we can do for you.
Ant Disinfestation
To eliminate all ants, you must identify their path to and from the nest. Only by attacking the problem at the source, where the queen is, is a permanent ant disinfestation possible.
It is possible to use the ants' behavior as a ticket into the colony by using interior bait. In this way, the ants carry ant food into the nest, putting an end to ant multiplication.
To avoid the need for further intervention, keep tables, countertops and floors clean of crumbs and regularly wash all surfaces with disinfectant.
Count on Truly Nolen for effective, long-lasting ant disinfestation. Contact us!
Learn more about all of our disinfestation services.
If it's urgent, buy the service online here.


Urgent residential service?
Buy here online!