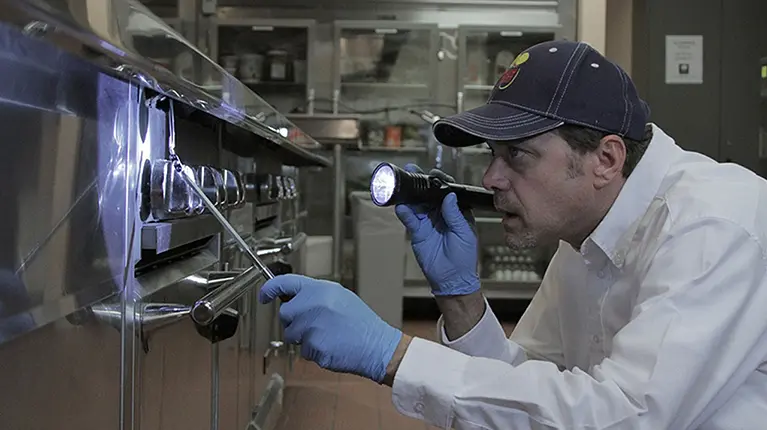 Truly Nolen has more than 80 years of experience in all market segments and its representative Tnolen, Estudos e Serviços de Protección Ambiental, Lda is SGS ISO9001 and CEPA certified in the area of ​​pest control.
Certification
The combination of experience with extensive research and development results in the best protocols prepared to solve any pest problems. Continuous training of our technicians ensures the correct execution of protocols, which makes Truly Nolen the first choice in pest control services.
We are specialists in Pest Control, Pest Control, Disinfestation, Insect Control, Poultry Control and Pest Extermination in companies all over the world!
Integrated Pest Management (GIP) is the methodology used by Truly Nolen, through maximum technical competence, to determine the most appropriate type of treatment to keep pests under control. For this, we adopt mechanical, sanitary, chemical and biological procedures, together with educational programs.
Three Zone Protocol
Truly Nolen divides the zones to be controlled into green, yellow and red, having specific procedures for each of them.
• Red Zone
It is the inner zone of the buildings to be controlled and is, therefore, the most sensitive area. In this place, the application of chemical products is avoided as much as possible.
• Yellow Zone
It is the perimeter, the last physical barrier to prevent pest entry. In this place, the use of physical barriers is allowed and recommended, applying the least amount of chemicals possible.
• Green Zone
It is the outdoor area, where we find most pests. In this place, the use of specific formulas associated with changes in the management of the environment is allowed and recommended.
TRULY CARE
It is a five-step program to run in each of the three zones: red, yellow and green.
• Inspection
The environment is carefully analyzed, with a view to finding possible shelters, sanitary problems, access points and infestations.
• Identification
The pests to be controlled are identified by the Truly Nolen technical team through pests, traces and type of damage found.
• Determination
The most appropriate control measures for each situation are determined.
• Control/Prevention
Our control programs are carried out, and measures are taken to prevent the risks of future infestations and control the pests that have been identified.
• Communication
It is the most important part of our service. The client is informed about what has been identified and determined, how it will be controlled/prevented, what possible environmental adjustments are required, in addition to what can be expected as a result of our actions.
Fighting pests is urgent!
Truly Nolen can help you!
Be prepared and call us today on 800 20 20 50 for a free inspection!